Next Events
Parkrun Takeover
23 November 2019
Please see this FB post or email Paula on secretary@rnts.co.uk to put your name on the volunteer list
Shirley Browell– Run Director
Chris Palmer – Timekeeper
Roland Bewick– Timekeeper
Lucy Fox – Barcode Scanning
Steve Twyford – Barcode Scanning
Nikki Crossman – Funnel Manager
Angie Barker – Finish Tokens (Sophie & Amelia on token board/jelly baby duty)
Lisa Twyford – Finish Token Support
Denise Leeder – Marshal point 4 with Kerrie Coslett (obelisk or with your mum on 4)
Gill Bewick – Marshal point 3
Jim Dowdy – Marshal point 2
Charlotte Lynskey-Green – Marshal point 1
Bob Lyddon – extra marshal (on the track between 1 & 2?)
Natalie Sayer – Tail Walker
Vikki Powles – extra as needed
Pacers:
Kevin Short – 23 mins
Amberley Wright – Pacer 25 mins
Lorraine Hunt – Pacer 26 mins
Cat Cameron – Pacer 28 mins
Mark Riseborough – Pacer 29 mins
Hayley Wright – Pacer 30 mins
Evette Price – Pacer 32 mins
Chris Lubbock – Pacer 33 mins
Kirsty Lack – Pacer 35 mins
Ceridwen Howell – Pacer 37 mins
Lynne Dowdy – Pacer 40 mins
Thanks again to everyone, have fun.x
Paula
Winter Social
Save the date and put on your thinking trainers!
It's time for the RntS Christmas social.  This year we'll be having gin tasting evening with Black Shuck, along with the obligatory quiz and lots of nibbles.
The date: 23rd November
The time: 7:00pm
The place: The Courtyard Café, Holkham
Price per person: £7.50 (partners are invited)
Put it in your diary (we're guessing it won't clash with any races).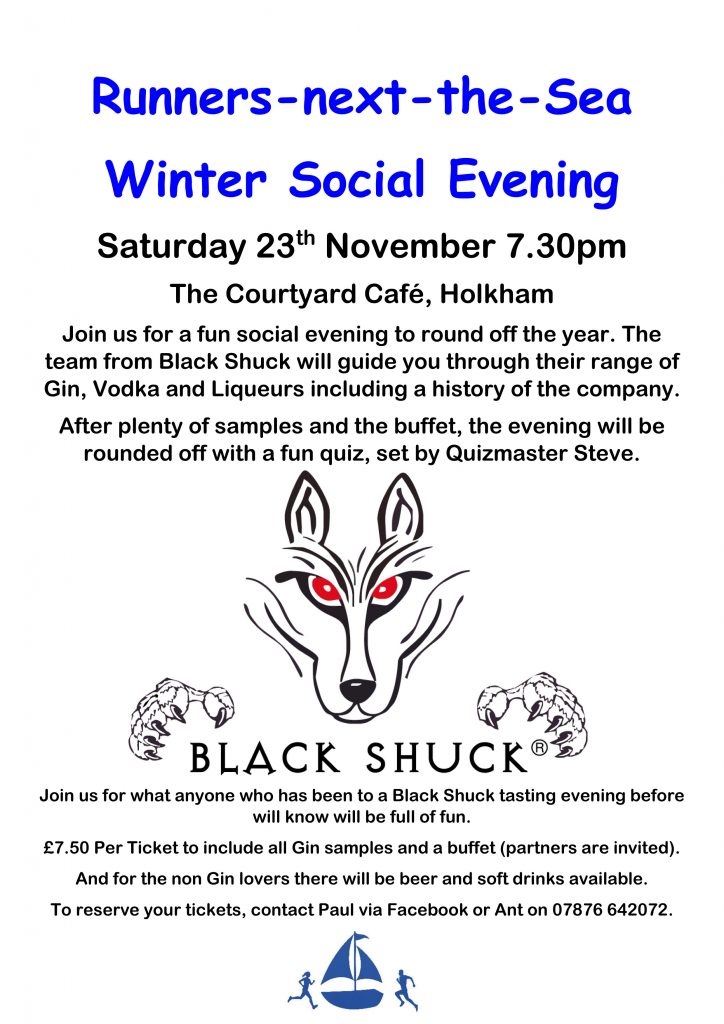 Weekly Events
If you see something missing, let us know so we can upload it.