Next Club Organised Events:
Club Handicap
A 2 mile handicap (same format as what Kevin does during the summer in Holkham Park). This will take place 4 times between April and September, dates are: 18th April, 13th June, 8th August and 5th September. Suitable for all abilities. If you do not wish to run, please volunteer to assist with timing and join us for a mini social of `shared cakes` following each run. Who will beat their handicap the most?! Usual training start time at Holkham. Don't forget, these handicaps form part of the Club Championships!
Club Championships
The Club Championships is a selection of races and volunteering opportunities spread across the membership year (April 2022- March 2023). It has been designed so that all members can qualify for a prize, regardless of whether they are currently running or not.  Hopefully from the amount of races, there is something for all runners.  Members must take part in a minimum of 3 events to qualify. Each race / volunteering opportunity earns 1 point.  Prizes will be in a tier system eg 3-5 points= x prize, 6-10 points = x prize etc. The tier system is to be confirmed shortly. Prizes will be awarded at the 2023 Presentation Night. A leader board will be published and updated after each event.
**The Wells Carnival Run on 4th August, the Inaugural RntS Beach Race on 4th December and the Parkrun Take Over scheduled for 18th March 2023 ultimately require `all hands-on deck` and we kindly ask that all volunteer roles are filled before people race so that we can showcase RntS as best as possible!  A perfect way to build up your voluntary experience is by putting your name down on the rota for Park Run, your support will be greatly appreciated! **
Please ensure you either email Cat at events@rnts.co.uk or message her via Facebook once you have completed each event in order for the score board to be updated.
The events are:
1 – April 17th Fakenham Active 5k plus volunteering roles (more info re volunteering to come)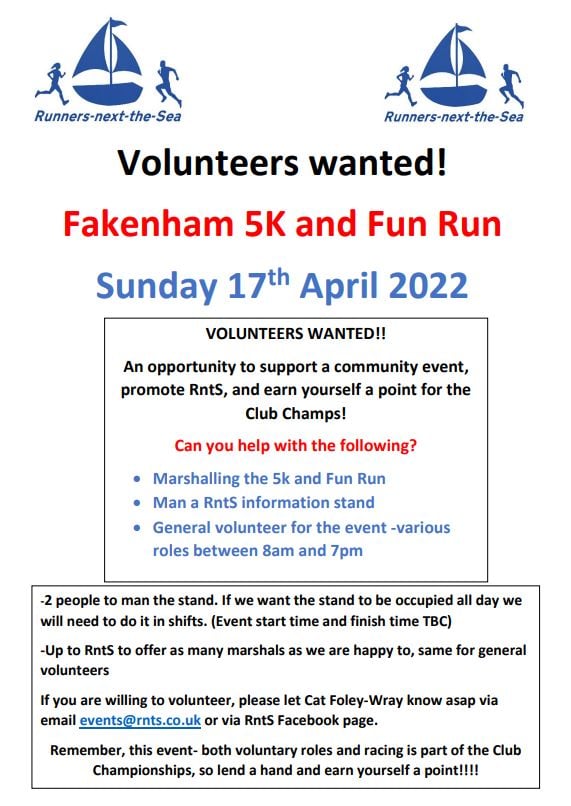 2. April 18th RntS Club Handicap-2mile
3. May 8th Aylsham 10k
4. May 14th and 15th Norfolk Track and Field County Championships at UEA
5. May 15th Dereham 10 Mile (this date clashes with the re -arranged Mammoth marathon and half marathon so  a point will be given  to those who complete Mammoth.)
6. May 29th Holt 10k
7. June 13th RntS Club Handicap- 2mile
8. June 25th Eastern Track and Field Championships, Cambridge
9. June 26th Alex Moore Relay (2.2mile lap)
10. July 2nd Holkham 10k
11. August 4th Wells Carnival run plus volunteering roles
12. August 8th RntS Club Handicap-2mile
13. August 21st Dereham 5k
14. September 5th RntS Club Handicap -2mile
15. September 25th Run Sandringham 10k
16. October 23rd Norfolk Gazelles Relay (5k legs)
17. November 6th Houghton Hall XC
18. Dec 4th  RntS Open Beach Race *please note all volunteering roles will need to be fulfilled before members can enter the race themselves*.
19. Dec 10th Parkrun on Tour- Sandringham (Holkham cancelled due to private event)
2023
20. JANUARY DATE TBC Keith Ward Memorial Open Track meeting,
21. JANUARY DATE TBC Norfolk Cross Country Championship
22. Feb 26th Stody Estate Honeybell Cross Country
23. FEBRURARY DATE TBC Norfolk Gazelles Valentines 10k
24. March 18th Holkham Parkrun Takeover
Family Beach Day
Sunday 10th July will see us embarking on the beautiful beach of Wells for a family friendly day of fun. This will include 3 mini training sessions suitable for all abilities, bring your own picnic, a RntS rounders match- Wells V Fakenham?! Followed by optional fish and chips at the Quay. This is an event for all the family and extended family members. There is no expectation for you to do the sessions if you don't want to, just come down and enjoy the beach and have fun! (There will be no club training session the following day)
Christmas Quiz
As the big day gets closer, another solely social event of a quiz and a raffle. Plan is to be held in a local hall. Date TBC nearer to the time.
Weekly Events (non-club organised):
If you see something missing, let us know so we can upload it.