Mammouth Marathon / Half Marathon
The first road Marathon in Norfolk since 1990 took place on Sunday. 5 RntS took part in the marathon and 7 RntS took part in the half marathon.
Well done to all the runners, but especially to the marathon runners. Congratulations to Rob, Nita and Pete who ran their first marathon.
Thank you to Kevin & Evette for volunteering at the event, their cheers at the end were very welcome.
Write up by Ant Cude for the Half:-
After a rather chilly gathering of RntS on the start line at Mundesley, which after the heat of Saturday was a welcome change in temperature. We (Cam and I) started our trip along the Coast Road to the finishing line in Sheringham. We all got into our strides after the initial climb out of Mundesley had finished. The weather conditions were perfect with a slight tail wind also helping. As we made our way to Cromer there was no shortage of support from people in their gardens and the calls of well done and keep going were most welcome.
Entering Cromer the traffic was manged well for us to run through unhindered, again the support was great from some friendly faces rom the North Norfolk Beach Runners.
Reports over the last few weeks of monster hills and hard climbs from fellow runners had made us worry about the course and up to the point of entering Sheringham I was wondering what all the fuss was about, but as we turned left into Common Lane I was about to find out that Norfolk is indeed not flat. The climb just kept going and kept getting steeper. We passed several people who had given up running and it was just about survival to get to the top. We were determined not to stop running but the speed certainly dropped off. Getting to the top was a delight and the run to the finish was made all the better with the great support of fellow club runners marshalling or just out to support each other for the event.
Official Results Marathon:-
Darren Smith - 4:18:02
Rob Jackman - 4:20:39 - pb
Lucy Mccallum - 4:59:06
Peter Alder - 5:13:27 pb
Nita Jackman - 5:29:06 pb
Official Results Half Marathon:-
Cam Raven - 1:45:39 - pb
Ant Cude - 1:45:40
Roland Bewick - 1:53:40
Kerrie Coslett - 2:20:24
Hayley Wright - 2:21:25
Nur Hooton - 2:23:50
Lynne Dowdy - 2:31:14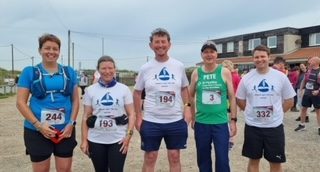 Dereham 10 Mile
Well done to the 9 RntS who took part in the Dereham 10 mile race on Sunday.
Write ups by Paula Smith & Malcolm Senior:-
Paula Smith:-
Today was my second time running the Dereham 10 mile race. The last time was 3 years ago, I was younger & I'm pretty sure I felt fitter?!
It's a well organised run that starts & finishes at Dereham High School. It's roughly a 2 mile run out, a 6 mile loop on country roads then the same 2 miles back to the High School.
It's all on road and mostly flat, although there are a few hills in the last couple of miles - I definitely remember them from last time!
We had a few RntS in attendance and some great pb's too 👏🏻 Sadly, that didn't include me (I blame dropping & losing all my sweets at mile 5!!) but I came close and I'd be tempted to try again next year. If you've thought about a step up from 10k's or are thinking about training for half marathon distance I'd definitely recommend it.
Malcom Senior's write up of the

Dereham 10-mile Road Race on Sunday 15th May 2022.
The 10 Mile race starts at Dereham Neatherd High School, Norwich Road, Dereham and then heads out into beautiful countryside along quiet roads to return to school for the finish. The route is predominately flat with some gentle undulations – that`s the official advert.
It was trying to rain as we left Dersingham for the 45-minute drive to Dereham but it cleared as we arrived and stayed dry throughout the morning. The temperature was around 13 deg so a good day for a race. Dereham Runners AC were well organised from parking cars, number pick up, and race result presentation.
From the school the course headed east on the old A47 for two and half miles, turning onto single track roads for a four and half mile loop before returning back onto the old A47 to return to the school.
It was my first long race (greater than 10K) since August 2019 so I had to dig into my physical and mental reserves after mile 7. I felt that the route had long steady inclines rather than gentle undulation but there was no doubt that the loop on the single-track rural Norfolk roads were quiet. The course was well marshalled and plenty of volunteers at the three water stops, all volunteers giving support and encouragement for the runners.
All finishers received a medal, refreshments at the school (tea, coffee home-made cakes) were sold in aid of charities Big C Cancer Charity and CICRA (better lives for children with crohn`s and colitis).
Finished in a time of 1:17:29 chip time placing me 3rd MV70+. As this was an Athletic Norfolk event I also received a 3rd place County medal.
Official Results:-
Kevin Heyhoe - 1:11:41 pb
Shane Hunt - 1:13:37 pb
Tara Betts - 1:15:17
Lorraine Hunt 1:15:22 pb
Malcolm Senior 1:17:29 - 3rd in age
Gordana Sucur-Hills - 1:19:23 pb
Paula Smith - 1:22:02
Andy Payne - 1:24:05 pb
Kirsty Lack - 1:47:01
Norfolk County Championships
Cat Foley-Wray and Chris Palmer both took part in this event - well done to both of them.
Chris Palmer - Silver medal in the M70+ category for the 100 metres with a time of 15.6 seconds. Sadly Chris tore the rotator cuff in his right shoulder in warm up so was in A&E rather than taking part in the 200m. We wish you a speedy recovery Chris.
Cat Foley-Wray - First place in the V35 category for the 3000 metres with a time of 11:32
Write up by Cat Foley-Wray:-
With a few days before entries closed I decided to enter myself into the Norfolk 3k track and field championships. Despite having not stepped on a track since 2016 I knew the drill and had nothing to lose and was keen to see how I would do. Track running is different to road/ xc especially when the number of laps increase. My intention was to set off slow and suss out the field and hope to be able to tuck in behind someone and get dragged along. It was a small field of youngsters with me clearly being the golden oldie! It was one of my most comfortable races where I felt relaxed and actually enjoyed it, probably as there was zero pressure and had my lovely boys clapping and cheering on each lap. I gradually picked the pace up which was helped by the little wind and came through the field to finish 2nd overall and 1st female, making me the vet 35 3k County Champion in a time of 11mins 32. Even though I was the only vet 35, you have to be in it to win it😂