A brilliant evening of running was had by all at the Run-next-the-Sea Carnival  Run.  The Fun Run was 1.3 miles and the Competitive Run 5 miles.
49 Fun Runners took part and 42 Competitive Runners.
After a very hot day, luckily the weather cooled down with a slight breeze for the events which took place from 6:00pm.
Congratulations to Stanley Taylor (8:22) and Abi McCallum (9:29), winners of the male and female Fun Run trophies.
And also to James O'Neill (30:16) and Nicky Dawson (44:39) winners of the male and female Competitive Run trophies.
Full results are below.
Thank you to everyone who volunteered their time to make this event successful.  Same time next year?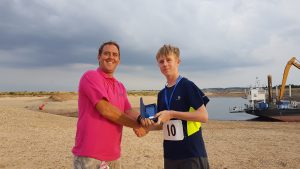 Fun Run Results

| Position | Name | No. | Time | |
| --- | --- | --- | --- | --- |
| 1 | Stanley Taylor | 10 | 8.22 | Winner of male trophy |
| 2 | James Allison | 7 | 8.24 | |
| 3 | Dan Gilles | 38 | 9.04 | |
| 4 | Abi MacCallum | 3 | 9.29 | Winner of female trophy |
| 4 | Callum Bradlet | 45 | 10.00 | |
| 5 | Amelle Stewart | 35 | 10.08 | |
| 6 | Louis Stewart | 34 | 10.15 | |
| 7 | Tom Allison | 6 | 10.16 | |
| 8 | Albert Taylor | 8 | 10.18 | |
| 9 | Andrew Taylor | 9 | 10.27 | |
| 10 | Sam Doughty | 32 | 10.59 | |
| 12 | Jude Gilles | 37 | 11.05 | |
| 13 | George Needham | 23 | 11.13 | |
| 14 | Sam Gent | 20 | 11.19 | |
| 15 | Connor Bradley | 43 | 11.20 | |
| 16 | Wayne Bradley | 44 | 11.21 | |
| 17 | Tom Gent | 19 | 11.27 | |
| 18 | Gareth Carter | 42 | 12.45 | |
| 19 | Isabelle Needham | 24 | 12.59 | |
| 20 | Sienna Patch | 29 | 13.00 | |
| 21 | Leanne needham | 25 | 13.02 | |
| 22 | Myles Dewer | 15 | 13.34 | |
| 23 | Cameron Dewer | 16 | 13.34 | |
| 24 | Robert Page | 39 | 13.44 | |
| 25 | Sarah Page | 40 | 13.5 | |
| 26 | Derek Ward | 26 | 13.59 | |
| 27 | Lucy Holt | 41 | 14.07 | |
| 28 | Kitty Hopkinson | 31 | 14.11 | |
| 29 | Mike Hopkinson | 30 | 14.11 | |
| 30 | Eden Bland | 1 | 14.27 | |
| 31 | Kate Bland | 2 | 14.31 | |
| 32 | Chiara Patch | 28 | 14.39 | |
| 33 | Verity Patch | 27 | 14.40 | |
| 34 | Amelia Woodings | 47 | 14.49 | |
| 35 | Mary Gilles | 36 | 14.55 | |
| 36 | Nathan Rowen | 4 | 14.56 | |
| 37 | Ella Hamey | 12 | 15.03 | |
| 38 | Anna Bunny | 33 | 15.53 | |
| 39 | Amie Hamey | 13 | 16.08 | |
| 40 | Lucy Hamey | 11 | 16.35 | |
| 41 | Isla Woodings | 48 | 16.48 | |
| 42 | Benedict Woodings | 49 | 16.49 | |
| 43 | Tracy Linger | 18 | 18.23 | |
| 44 | Kristy Pinto | 5 | 18.25 | |
| 45 | Penny Gent | 21 | 20.04 | |
| 46 | Liz Wright | 22 | 20.04 | |
| 47 | Florence Dewer | 14 | 20.46 | |
| 48 | Alistair Kerr | 17 | 20.46 | |
Competitive Run Results

| Position | Name | No. | Time | |
| --- | --- | --- | --- | --- |
| 1 | James O'Neill | 221 | 30.16 | Winner of male trophy |
| 2 | Alex Curtis | 248 | 36.07 | |
| 3 | Dan Stewart | 252 | 36.48 | |
| 4 | Mike Quaye | 245 | 37.11 | |
| 5 | Liam Dawson | 241 | 37.22 | |
| 6 | Karl Bolderson | 238 | 37.53 | |
| 7 | Andrew Page | 257 | 38.07 | |
| 8 | Seb Taylor | 250 | 39.11 | |
| 9 | Ben Gent | 242 | 39.13 | |
| 10 | Kurtis Angell | 235 | 39.32 | |
| 11 | Keith Rix | 229 | 39.53 | |
| 12 | Harry Carter | 247 | 41.32 | |
| 13 | Declan Blaney | 256 | 41.51 | |
| 14 | Coner Jerram | 251 | 42.10 | |
| 15 | Alex Buckley | 261 | 42.39 | |
| 16 | Philip Bamford | 231 | 42.49 | |
| 17 | Neil May | 226 | 42.52 | |
| 18 | Cameron Raven | 222 | 43.00 | |
| 19 | Mark Doughty | 246 | 43.28 | |
| 20 | Will Honetbone | 236 | 43.29 | |
| 21 | Ben Hogan | 237 | 44.01 | |
| 22 | Matthew Harne | 234 | 44.16 | |
| 23 | Nicky Dawson | 225 | 44.39 | Winner of female trophy |
| 24 | Emma Richmond | 227 | 45.07 | |
| 25 | Alex Kampolis | 258 | 45.55 | |
| 26 | Emma Smith | 259 | 45.58 | |
| 27 | Julia Norman | 240 | 46.21 | |
| 28 | Scott Deakin | 239 | 46.31 | |
| 29 | David Raamsbottom | 260 | 47.01 | |
| 30 | Daniel Bland | 224 | 47.22 | |
| 31 | Celia Orford | 233 | 49.53 | |
| 32 | Tim Woodrew | 232 | 49.54 | |
| 33 | Ben Kemp | 253 | 50.52 | |
| 34 | Daniel Evans | 254 | 50.52 | |
| 35 | Sarah Allison | 230 | 52.28 | |
| 36 | David Richmond | 228 | 52.34 | |
| 37 | Libby Woodhouse | 223 | 52.41 | |
| 38 | Clive Matthew | 255 | 53.08 | |
| 39 | Francesca Vane | 243 | 56.15 | |
| 40 | Lewis Clarke | 249 | 58.26 | |
| 41 | Erik Vane | 244 | 1.01.56 | |