A brilliant two lap, flat course around the streets of Dereham.
Started after the playing of The Last Post and a minutes silence in memory of all those who have fallen.
The weather was great, a small breeze and not too hot with the odd spot of rain at the beginning.  A very well organised event with the marshals doing a fantastic job (considering that some of them were getting abuse from unhappy motorists due to the 45 minute road closure).
A definite recommendation.
Official Times:
Ant – 18:35.171
Paul – 21:49.462
Amberley – 22:59.555
Mark – 24:34.182
Libby – 25:30.373
Kirsty* – 27:51.691
Claire – 30:27.311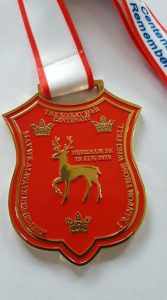 * Honorary RntS for the day and possibly a new member of the club…..