What a fantastic evening and turnout for the 5K track challenge (maybe the first of many?). Over 40 club members attended with 38 running.
Conditions were spot-on, very little wind, not too hot (although it did warm up when the sun came through) and dry. Two groups of runners set off at different times for what, to many of us, seemed a quite intimidating event!
In the end, I found that the time just vanished and it was over before you knew it.
Amazingly, in an open space, GPS seemed a little bit erratic with some GPS trackings finishing at before 5K, with others way past it. But, thanks to working a buddy system where another runner counted your laps, we all know that we did 5K (AKA 12.5 laps!).
Very enjoyable in the end and a good show from everyone with a number of fastest 5Ks in the bag!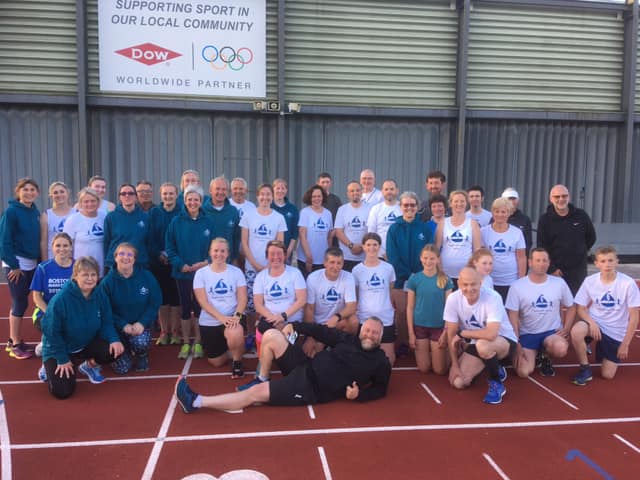 | Name | Recorded Time |
| --- | --- |
| Ant Cude | 19.19 |
| Abbi McCallum | 20.29 |
| Rob Jackman | 20.46 |
| Jack Woodhouse | 21.16 |
| Paul Woodhouse | 21.51 |
| Cam Raven | 22.13 |
| Hayley Murfit | 22.14 |
| Amanda Marshall | 22.43 |
| Reece Dumphreys | 22.48 |
| Paula Smith | 23.05 |
| Lorraine Hunt | 23.21 |
| Amberly Wright | 23.36 |
| Cat Cameron | 23.57 |
| Stu Cameron | 25.05 |
| Chris Lubbock | 25.35 |
| Mark Riseborough | 25.43 |
| Roland Bewick | 26.17 |
| Chris Palmer | 26.38 |
| Hayley Wright | 26.44 |
| Susie Towning | 26.55 |
| Hayley Jones | 27.35 |
| David Grant | 27.49 |
| Keith Beswick | 28.12 |
| Natalie Sayer | 28.37 |
| Nita Jackman | 28.50 |
| Sophie Defew | 28.56 |
| Jodie Harvey | 28.59 |
| Ceri Howell | 29.00 |
| Jane Heasman | 30.19 |
| Kerrie Coslett | 30.28 |
| Emma Stickley | 30.48 |
| Shirley Browell | 32.39 |
| Nikki Crossman | 34.37 |
| Teresa Abel | 34.52 |
| Denise Leeder | 34.57 |
| Gill Bewick | 36.53 |