Write ups from participants of both events today.  Thank you Paul and Kerrie.
Horsford XC R3
Well that was a impromptu run!
Talking Saturday evening to maybe take part as Libby was keen we thought we would make  the final decision Sunday morning.
Not too bad I thought £4 a head Spa treatment courtesy of Norwich Road Runners and the Horsford XC for Libby's valentines present!!!
Having witnessed several RntS partaking a couple of years ago I must say I was reluctant but gave it a go.
On arrival we met Cam who was already signed in and keen as mustard to get going.  We signed in and made our way to the start,
3 laps for Libby and 4 for Cam and I – 2.7k/ lap
The first half of the lap was ran on wide paths covered recently with small grey shale like stone. This was very loose and not easy to run on.  After this it turned on to a small uneven woodland path heading towards the water crossings.
The approach was littered with tree trunks to negotiate followed by two small ditches which you could jump. This all led up to the two infamous waist deep water crossings and boggy area.
Negotiating the first pretty well I descended into the second, this however didn't go to plan as I some how ended up on all fours causing quite a shock to the system. Clambering out and through the bog the route continued up an incline to rejoin the path. Following this it meandered through the woods and back to the start/finish and three more laps to endure.
At the finish Libby and Cam had already finished, credit to both of them for their runs.  Somehow Libby had managed to keep her white shirt pretty clean unlike Cam and I.
A well organised event well marshaled by supportive volunteers. Easy to enter on the day but no facilities.
Official Results:
Cam – 1:00:37
Paul – 1:06:48
Libby – 56:25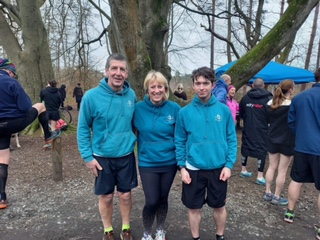 Marriott's Way HM
As always Positive Steps Events put on a really good event from start to finish. Before I entered Lucy said you need to do it as you will really enjoy it. She was not wrong. It was such a lovely route and all off road other than a few road crossings.
The marshals as always were friendly and gave lots of encouragement.
I would highly recommend this event to anyone, it was so relaxed and open to all runners and walkers.
Also £5 of each entry goes to the Air Ambulance, with £2000 raised from today's event
Official Result:
Kerrie – 2:20:18