Epic North Walsham 5k
5 RntS took part in the North Walsham 5k on Friday evening.
Sarah-Jane said the course was hilly but good fun! Very warm!.
Official Results:-
Kevin Heyhoe - 19:48 - pb
Kyle Hastings - 20:35 - pb
Sarah-Jane Smith - 23:09
Laura Watson - 26:36
Debbie Moore - 32:45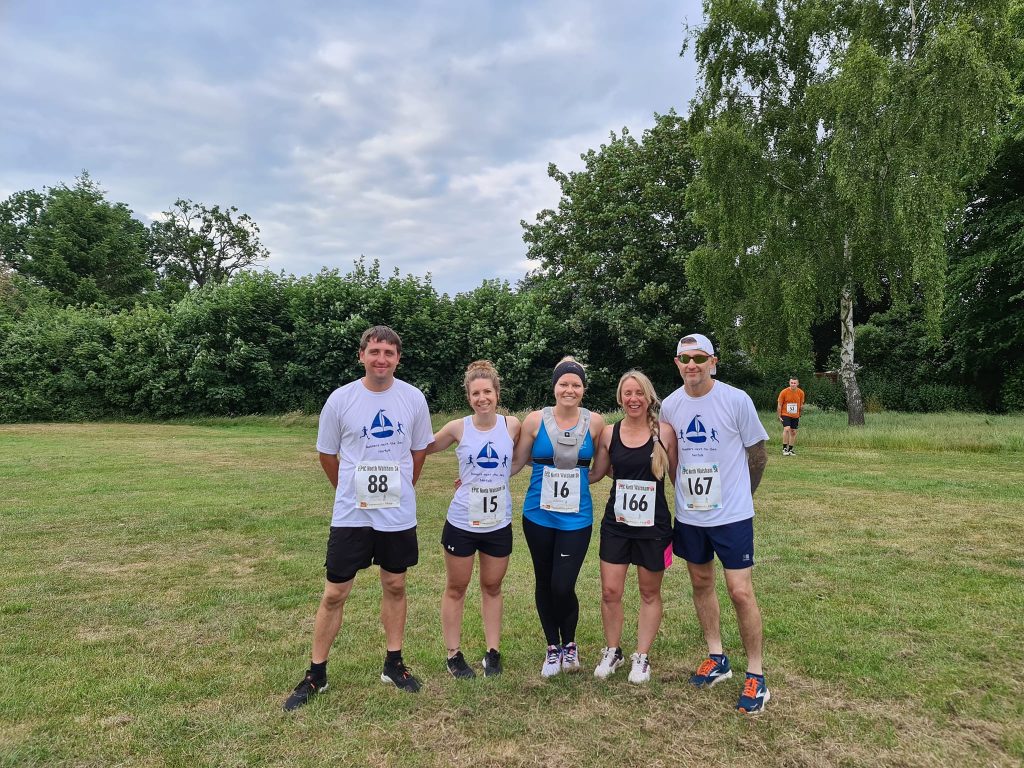 Alex Moore Relay
6 teams took part in the relay event on Sunday.
It is a relay race around the village of Skeyton. Teams consist of three runners: 1st runner (1 lap - 2.2 miles), 2nd and 3rd runners (2 laps - 4.4 miles) and together (all 3 runners as a team) (1 final lap - 2.2 miles). So each team will complete a Half Marathon.
Alex Moore was a former Norfolk Gazelle who died in a sky diving accident in 2003 at the age of 24, Alex was a talented runner who joined Norfolk Gazelles in 2001. To celebrate Alex's life, Norfolk Gazelles set up the Alex Moore Memorial Relay in 2004.
The race is very enjoyable with a great atmosphere, but a tough one and the chance to have a picnic together after the event.
Cat Foley-Wray has done the write up for this event
"Sufficiently in the middle of nowhere" was Alex`s description of where google maps had identified the location of Race HQ as he was planning the route on Saturday Evening! Luckily for me, I didn't need to worry about the navigational side of things as I hopped aboard Woodhouse`s Wonder Tours` on Sunday morning and was escorted to the race. I could tell the journey would be entertaining after the response I got from Paul after I politely asked if I could finish eating my banana in his car was " as long as it keeps you quiet." No Chance! Anyway, we set off with Paul`s hope to educate me about Norfolk Life after my query regarding any on street parking at the race was met with dismay in relation to my lack of Norfolk understanding! I enjoyed my front row seat as we toured past the many, many fields, lack of pavements, and the occasional sign of human life along with an unidentified animal running across the road with another unidentified animal in its mouth?! A brief stop allowed Ant to aboard the tour who informed us that he is now feeling happier and more refreshed after having recently taken the decision to bring in his bird feeders at night time as the birds were making too much noise in the morning and waking him up! Norfolk life! With his faded RNTS top on, I offered for my children to bring their felt tips along to colour in the faded boat logo , however Alex and the boys had already left as they embarked to find Race HQ in deepest Norfolk. The tour continued with many more fields, although a distinct lack of tractors. An interesting topic came up with regards to Paul`s upcoming birthday to which he wasn't showing much enthusiasm about, so I took that to mean he was hoping to keep his 60th Birthday on 11th September on the low. Libby and I helpfully suggested the positives in that he will be entering a new, albeit older age category with the potential to be in contention of some top ranking results along with Libby having the idea of sharing a selection of photos over his 60year existence, however both suggestions didn't seem to excite him too much so we shall leave the his upcoming 60th birthday on September 11th on the quiet.
Luckily for Paul we soon arrived at Race HQ, the village pub, albeit I couldn't actually see a village?! Norfolk Life they say. We did however find the rest of the lovely RNTS Rabble and all got ready for the relay. The sun was out and seemed to be getting hotter by the minute although there was a rather strong breeze too. Team members completed either 1 or 2 of the 2.2mile laps and then all running together for the final lap. The course was all on road bar the change over point and was a triangular shape consisting of gently undulating country roads and was well marshalled and supported- credit to Norfolk Gazelles. RNTS had huge success for all of the 6 teams that competed.
Official Results:-
18TH-Speedy RntS- (5th in category)
Ant (1 lap) - 13:39
Shane (2 laps) - 30:14
David (2 laps) - 28:52
Final Group lap - 15:32
Total - 1:28:16
31st- Leg it Ladies (2nd in category)
Ana (1 lap) - 16:18
Lorraine (2 laps) - 31:26
Cat F-W (2 laps) - 29:41
Final Group Lap - 16:52
Total 1:34:18
34th The Three Must Get Here`s
Paul (1 lap) - 15:34
Rob (2 laps) - 31:07
Liam (2 laps) - 31:02
Final Group lap - 17:12
Total 1:34:57
47th Kneerly There
Bob (1 lap) - 16:54
Andy P (2 laps) - 34:01
Sarah Jane (2 laps) - 33:47
Final group lap - 18:27
Total 1:43:11
86th RIOT- Running Is Our Therapy
Libby (1 lap) - 19:28
Anna (2 laps) - 37:30
Nita ( laps) - 43:07
Final group lap - 22:25
Total 2:02:31
93rd Run Now, Moan Later
Hayley W (1 lap) - 20:28
Kerrie (2 laps) - 41:53
Lucy (2 laps) - 42:53
Final group lap - 24:25
Total 2:09:41
Well done to all, especially the 3rd runners in each group.