Very proud moments for Chris and Ceri who took part in the World Champions at the Ratina Stadium in Tempere, Finland running for Great Britain.
Chris took part in the 200m and 100m distances in the M70 category.
In the 100m Chris qualified for the semifinals with a time of 15:07.
In the 200m Chris came 5th in the heat, sadly not getting through to the semifinals, but a fantastic achievement given that Chris was struggling with hamstring issues and had to be taped up (with GB tape).
Ceri took part in the 8k Cross Country distance and came 11th, another fantastic achievement with 30+ degree heat.
Very well done to both of you.
Holkham Outlaw 10k
A group of RntS took part in the Holkham Outlaw 10k on Saturday, well done to you all, it sounds like it was a tough run.
Andy Sutton has provided a write up of the event:-
Holkham was very tough, hilly and windy!! I started off quickly then slowed at 4 miles where Kevin Heyhoe caught me up and helped drag me home. We finished 12th and 13th. Great event, I was pleased to just complete it after a few weeks nursing an injury.
Official Results:-
Kevin Heyhoe - 42:57 - pb
Andrew Sutton - 42:58
Mat Eyre - 43:27
Kyle Hastings - 43:56
Gordana Sucur-Hills - 50:51
Sarah-Jane Smith - 51:51
Gemma Pickering - 51:55
Cat Cameron - 54:14
Bob Lyddon - 54:20
Sophie Defew - 01:09:50
Mark Riseborough - 01:10:21
Cameron Raven - 01:12:57
Shirley Browell - 01:13:01
Vikki Powles - 01:13:57
Laura Shaw - 01:15:27
Angie Barker - 01:19:22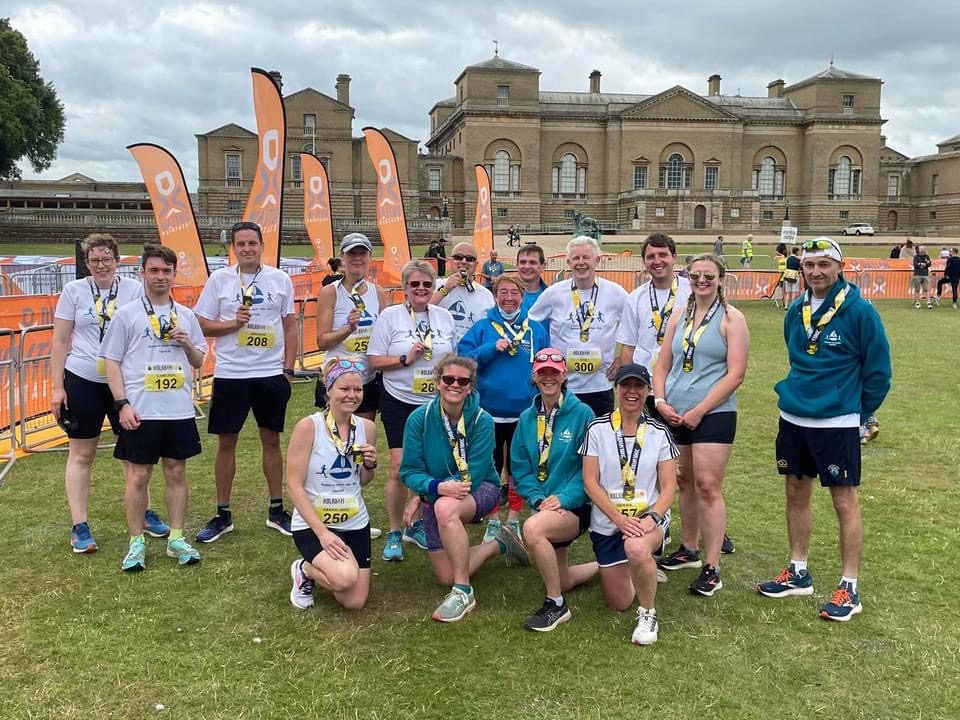 Darkside Running sunset Marathon
Nur, Lucy and Kerrie took part in the Sunset Marathon on Saturday afternoon. A tough trail marathon.
Kerrie has written up thoughts on the event:
Nur , Lucy and myself took part in the Darkside Running Sunset Marathon. The race follows the coast path from Wells to Snettisham on mixed terrain, road, track, grass and sand. The idea is to get to Snettisham before the sun sets. We started at 3:30pm on Wells Beach, running to Holkham on the sand and from Holkham to Burnham Overy on sand, not an easy start to the run.
We followed the coast path to Brancaster where we got diverted away due to works on the boardwalk, this was also the case at Thornham, we had a vague idea that the marathon distance was going to be slightly extended due to these diversions. It was such a lovely route, Lucy and I chose the run as we have not ran from Holme to Snettisham before and thought this was the perfect opportunity. The support from family and friends along the way was so welcoming and really helped us with the run. Many walkers along the route wanted to know what we were doing, it was lovely to chat to them. It was a self navigational run, maps were required but thankfully we didn't need them and followed the correct route until the last mile where we made a slight wrong turn. I have never been so glad to see the finish line of a run, it was dusk at this point and severe fatigue had set in for a while. The support from Lucy on this run was amazing as always, I had a few moments along the way especially when I knew we were going to be running at least 28 miles (instead of 26.2!) but I did make it to the finish line and we got to the see the sun setting over the sea at Hunstanton which was beautiful.
It was one of the hardest runs I have done to date.
For anybody wanting to do a trail marathon, this is a great one with a generous cut off time, however it is a tough one, Norfolk may be flat (ish) but the terrain is not easy.
Official Results:
Nur Hooton - 06:30:08
Lucy Mccallum - 06:47:03
Kerrie Coslett - 06:47:10